Mebrithiel Ju'wien
Phoenix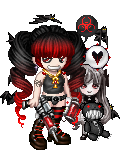 Joined: 28 May 2006
Posts: 1168
Location: System: Cocytus, Constellation: Hell
Posted: Sun Jan 07, 2007 1:40 am

Post subject: Bloody Research (Pt2)

---

Bloody Research Part 2

The new start arrived in Irjunen in time to hand in her application personally to the directors available. Meeting them in a new clone, she thought, was probably not the best way to arrive, but Curse sometimes threw a curveball to plans.

Unlike most other Civire, Izzy didn't make up for her natural petite size with brawn and a bark. She didn't buy into the State or its politics. She had made her quiet little way through school, paying lip-service alone to the State mantra. In her heart, she had screamed for freedom and solitude to tinker in space, and shortly after graduating, had flown her Ibis out to Stain to join the charismatic and talented Dust Angel and live literally on the edge.
And as she climbed in her pod to drop another SCC issued Ibis, she remarked to herself how this tiny Caldari frigate always appeared around her pod at times like this.

The tiny Civire opened her eyes and looked around her sleek, black, metallic body before undocking and warping to the station. The thrum of her warp-engine felt in sync with her own excitement despite being back in teh STate that had tried to squeeze her into a mould. Her FTL comms buzzed with commotion, from the Summit to the Bistro, but Izzy was focussing on her path ahead.
Upon docking, Izzy mentally opened all the legal window feeds to fill out the final section of her application. There was no need for her to leave her pod as all the work could be done right there, but Shintoko, the director who had completed the Civires 'app', had recommended to Izzy to come and head down to the corporate offices in person.
Wondering why, and a little worried, considering the corp-in-questions shadowy past and enigmatic leader, the Civire couldn't resist her curiosity and left the safety of her pod.

Heading down the corridors to the corporate offices array, Izzy was saluted by countless men and women of every rank. The State placed pod-pilots on a pedestal much higher above mortals than any of the other empires. To the State, the pod-pilots heroics in the Great War had kept the Caldari people free from the Gallente 'boot' - they still indoctrinated their people from birth, to worship and respect them.
For Izzy though, this was a far cry from her school days and, feeling the eyes of everyone on her, she picked up speed until she was running through the corridors.

After she had escaped the 'normal' people, Izzy found herself lost, but not quite. She recognised the directions to different corporations offices but couldn't see signs to Omertas.


You're warm...


came the familiar lilting tones of one of her friends through a personal comms implant. Izzy had installed it so she could keep in contact with her girls from the Bistro while out of her pod. It was a personal triumph of Izzys, based on her research with True Creations and access to their implant technology.
Izzy started down a corrider, almost feeling where the voice came from.


Warmer...



Following the seductive tones of the Sebiestor, Izzy proceeded down corridors and along a few floors before coming to two solid, black, Carbonide doors with the corp logo embossed on the front.


You're red hot. Looks like you found us. Come on in.


The doors parted to reveal pitch black darkness beyond. Out of the shadows came the familiar but all too disturbing image of a small, young-looking Sebiestor in a black skirt and tights, topped with a matching corset.

"Mebbie!" Cried Izzy as she leapt into the arms of her friend and soon-to-be corpmate.



"SURPRISE!"

Was the shout as the room lit up to reveal pod-pilots of various race and bloodline, but all faces she knew from the corp roster for a long while now.

"Welcome to Omerta Syndicate," Shintoko said, as the demure Gallente director approached to embrace the delighted Civire.

"Life sucks," began Mebrithiel Ju'wien, whose pout turned rapidly into a mischeivous grin, "but you're gonna love it here!"
_________________



"But here is the smell of the blood still and all the perfumes of Khanid will not sweeten this little rose"